COMMENTS ARE NOW CLOSED! THE WINNER WILL BE ANNOUNCED IN ANOTHER POST. :)


THANK YOU TO ALL THAT ENTERED!! MAKE SURE TO CHECK BACK MONDAY FOR FOR THE START OF MY WEEK [BUSINESS WEEK] OF GIVEAWAYS!!!



Today we have another awesome giveaway... maybe more awesome because it's FABRIC!!! One of my favorite fabric suppliers on Etsy,
LanieJane
, has been kind enough to offer a fat quarter bundle for one lucky winner!
LanieJane is an amazing shop! These sisters really are wonderful to their customers, and try and accommodate everyone. Their shipping is FAST and they have a wide array of fabrics to choose from!! I love this shop!
The fabric designer is Tina Givens, and the name of this line is Rachael. Except... 1 of the fat quarters is the Chloe's Imagination line. :)
Here is the fabric bundle you are all entering to win...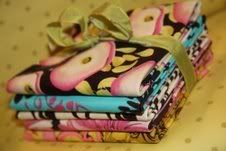 And, here is what the individual patterns look like ...

And, here is the fabric from Chloe's Imagination: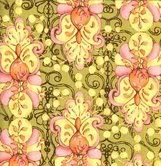 Are you excited? Good!
Here is how to win...
1
blog point for leaving a
COMMENT
. Go visit
LANIEJANE
, and come back here and tell me what fabrics you would love to see in her shop! [if any!] :)
2
blog points added for
FOLLOWING ME
! You all know how much I love blog friends! ;)
3
blog points added if you
BLOG
, or
TWITTER
about this giveaway! If you do blog or twitter about this giveaway, please enter your name and blog/twitter address in Mr. Linky below
instead
of commenting in the comments. :)
5
blog points for
EACH
item Purchased
BEFORE
the giveaway is over! Be sure and let me know if you did!! And, tell her Shealynn sent you! ;)
Giveaway
ENDS
sometime on
Saturday
!! ;)
** Be sure and check back to see if you won! **

Tell All Of Your Friends!!!!
If you're new here,
WELCOME
!! Grab a cup of coffee, cocoa, tea, or soda, and feel free to look around!! :)
XOXO,
Shealynn