Don't forget to enter the MKL Designs Holiday Card giveaway! Click HERE. It ends this Wednesday!!
Don't forget to enter the Gussy giveaway Click HERE!
_______________________________________________________________________________________________________________
We have another giveaway...

Yes. Another one!

I can hardly believe it myself. :)

Apparently I booked all these giveaways this week

then proceeded to completely forget.

Bad Shey!

But, hey! You get to benefit from it...

Well. At least 1 of you will.

Tiffany and I have been talking

about doing her giveaway since

the beginning of October, and I am so

excited to be able to share her shop with you.

She is just starting out. :)

OK, isn't her dog totally cute?

Now... let me introduce you to my friend

Tiffany. She lives in Arizona,

and we talk a lot on chat. She is super sweet.

She has written a little note to all of you.


I know! How awesome.

***

Hi everyone! My name is Tiffany, I'm 23 and I live in Arizona (though I'll always be a Wisconsin girl at heart). I started sewing one day on a whim, and I have to say it quickly became an addiction. I have tried my hand at several different random projects and when I got such positive results from friends and family I decided to test if they were just being nice or if strangers really would buy my products. Ha! Anyway, since my dog is a princess and I know several dog lovers I decided I would start out my little business by making dog collars. I always wanted something cute for my dogs to wear, and something different that 1,000 other Petsmart shoppers didn't already own. My dog also has sensitive skin and the nylon webbing just wasn't working for her. Along came my sewing habit and now I can't stop making her cute and comfy cotton collars. I hope you like them as much as Bailey and I do!
I also have to say a big thank you to Shealynn. I stumbled upon her blog on a crazy night the first week I started sewing. One blog led to another blog which lead to another and before I knew it I didn't even know where I had started, or that is was the wee hours of the morning at that point. I am so glad I found her though! She has been so helpful, fun to talk to, and so gracious to help me get my business up and running with this giveaway. Oh and I can't keep from mentioning how much I LOVE her camera strap covers. Thanks Shealynn!
Thanks, Tiffany for being so sweet!
And she is so awesome in fact,
that she is letting the winner
pick their favorite collar from her shop!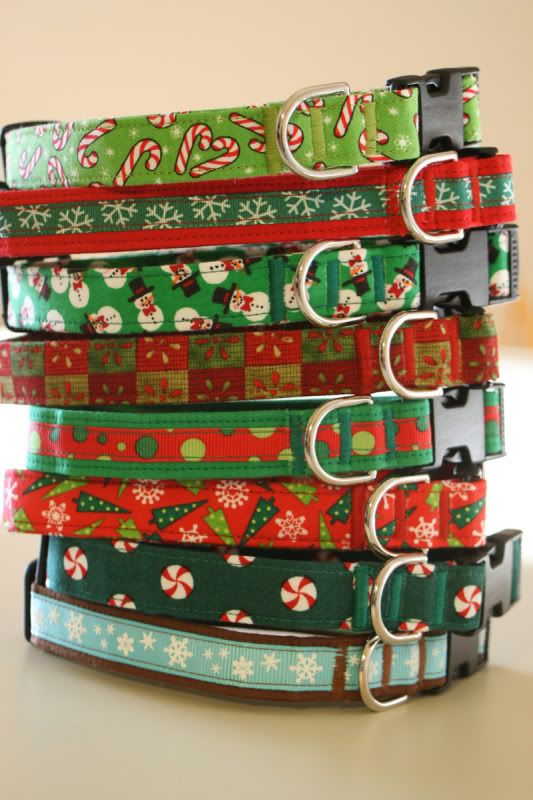 So... would your dog like to win a new "necklace"?
[That is what Zoe calls collars. lol]
Leave a comment for each one!!
Remember! You
do not
have to answer every question,

but the more you answer

, the more chances you have at winning. :)
And

PLEASE

remember to

check back here

to see if you have won! If you win, you

must

send me an email claiming your prize.
1. Just leave a comment.
2. Go visit
Tiffany's Shop
. Come back here and tell me what's your fave.
4. Blog, Tweet and/or Facebook about the giveaway.

5. Follow Me on Twitter.

6. Follow my blog.
7. Buy from
Tiffany's Shop
before the giveaway is over and receive
5 extra entries
!
Make sure you come back here and let me know you did... also make sure you let
her know you're from THE BENNER DAILY.
8. Follow Tiffany's
blog
.
9.Tiffany hasn't named her shop yet. And eventually she wants to do more than dog collars... maybe you can think of something creative? Leave it in the comments if you can. :)

Good luck!!
This giveaway ENDS next Tuesday ... time? ... you'll see. ;)
Thank you
Tiffany
for offering to do a giveaway on The Benner Daily!! You rock!
If you're interested in sponsoring The Benner Daily, we would Love to have you!
Please email for more information!
shealynn AT gmail.com
P.S. Go to Ucreate and check out the awesome

shops participating in her Online Holiday Boutique!

Click
here
. I may or may not be offering
a discount. :)

P.P.S. Click
here
,
here
, and
here
to enter to win a *Shey*[B]
Camera Strap Slipcover.