Hello my friends! There is something special going on today!
HarperTeen is hosting an fantastic promotion. They'll be giving away a signed book every day in the month of February and releasing an exclusive Q&A with the author to be posted on that day's partnered blog. Check out HarperTeen's 28 Days of Winter Escapes Book-a-Day Giveaway by clicking
here
!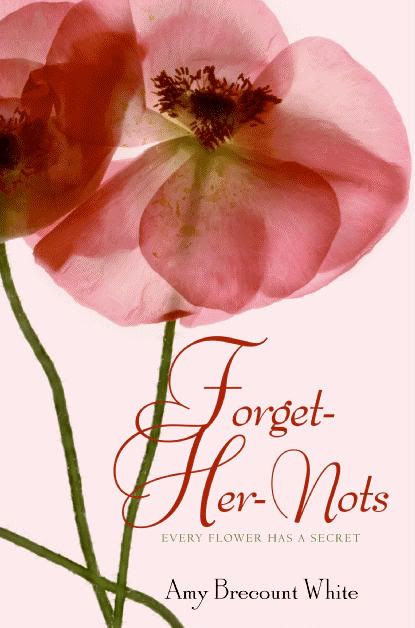 I am really excited that I am hosting the Q&A with Amy Brecount White for you today! I have had the pleasure of getting to know Amy on Twitter. She is incredibly nice! You can follow her on
Twitter
too! I encourage it. :) To win a signed copy of Forget-Her-Nots by Amy Brecount White check out today's giveaway by clicking
here
! There is a chance at winning an iPod Touch! Sweet!
Lovely friends... I would love it if you would get the word out about this blog post!! Let's show Amy some love, because she seriously deserves it! See that tweet button at the top left of this post? If you click on tweet, it will automatically retweet this post. How about linking it up on Facebook too? Would love it if you'd do that!! Hugs to you!
Let me brag about this book for a bit. . .
Forget-Her-Nots Synopsis:
Something—some power—is blooming inside Laurel. She can use flowers to do things. Like bringing back lost memories. Or helping her friends ace tests. Or making people fall in love.
Laurel suspects her newfound ability has something to do with an ancient family secret, one that her mother meant to share with Laurel when the time was right. But then time ran out.
Clues and signs and secret messages seem to be all around Laurel at Avondale School, where her mother had also boarded as a student. Can Laurel piece everything together quickly enough to control her power, which is growing more potent every day? Or will she set the stage for the most lovestruck, infamous prom in the history of the school?
My Thoughts:
I was intrigued by the synopsis, so I requested this book. I am really glad I did! This book totally exceeded my expectations. I loved how different it was from so many teen fiction out there right now. Amy really went outside the box by making this entire book about Laurel and the flowers. I found it to be very interesting, and a very good read. I am a bit bummed, however, that it is a stand alone book. I would LOVE it if amy revisited Laurel and Avondale School. I found the characters to be real. Meaning that I could imagine the things they were doing in real life. Amy was very detailed throughout the book, which is important for me while reading. It helps me envision everything that's going on.
I HIGHLY HIGHLY recommend Forget-Her-Nots! It'll be in stores March 2nd! Go grab your own copy then! I hope you'll come back here and tell me what you thought after you read it!
I give Forget-Her-Nots a 4.5 out of 5 stars! This is Amy's debut novel, and she definitely rocked it!
Now, here is the exclusive interview with Amy Brecount White!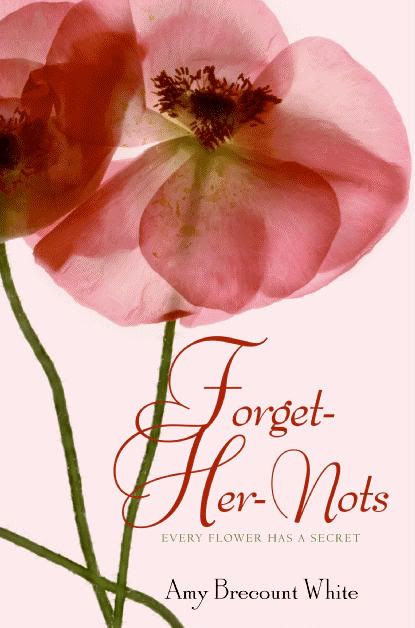 Laurel must deal with mean girls, crushes and the prom while trying to understand her own feeling about the loss of her mother. What was the hardest part of high school for you?
Trying to hide that fact that I was truly, irrevocably a geek. I could never get enough books! I loved to read everything from whopper Russian novels to travel guidebooks. Not exactly hot date topics. I mainly thought of myself as a smart girl, so when other things—like guys or friends or my tennis match— crashed and burned, I had my grades to fall back on and carry me on to exciting new people and places.
Laurel had it much tougher than I did.
Flowers play a main part of

Forget-Her-Nots

. What flower is your favorite to receive from a special someone?
I absolutely love all flowers, but if I had to pick one . . . gardenias. Their scent is so sweet— it can transform a whole room!— and they have a pure, ivory beauty about them. In the language of flowers, gardenias are for "ecstasy and transport," which sounds fun to me.
Have you ever had a crush on a fictional character?
Absolutely. I still do. Wes in Sarah Dessen's

The Truth about Forever

blew me away. And I will always have a thing for Nat from Elizabeth Speare's

The Witch of Blackbird Pond

, one of my all-time faves. I wouldn't mind hanging out with Justin (from

Forget-Her-Nots

) either.

:)
Do you believe in love at first sight?
Yes and no. I definitely believe in crush at first sight, but I think love— the kind that lasts— is something that develops only when you come to know a person truly and deeply. That takes time and energy and patience.
What is your favorite wintertime activity?
Ice skating. It's smooth and elegant, and you can do it while holding hands. I'm not out there doing triple salchows, but I love to glide.
Thank you for visiting my blog today to read about Forget-Her-Nots! And thank you Amy Brecount White for the interview! You sound so FUN! Maybe I'll see you at a book signing here in Phoenix. ;)