Secret Society
By: Tom Dolby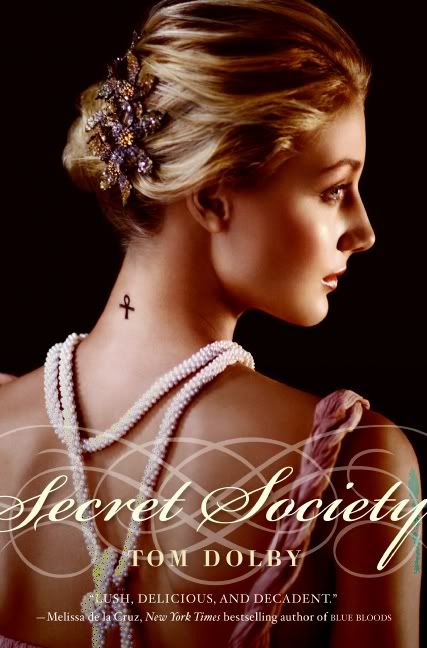 Reading level: Young Adult

Hardcover: 352 pages
Publisher: HarperTeen


Release Date

September 29, 2009
Language: English
A teeny-bit from Amazon:
"Secrets, secrets are no fun. Secrets, secrets hurt someone. . . ."
______________________________________________________________
Phoebe, Lauren, Nick, and Patch - these are some of New York's privileged teens attending Chadwick School. The world they live in is a world that no other teen can even imagine, and most may be jealous. But, these teens might surprise you. On the surface some of them may seem to play the rich kid part well, but underneath it all, they would love nothing more than to be "normal". Whatever normal is.

A night out at a party turns out to be no normal party night, when Phoebe, Lauren and Nick get the text message. They have heard rumors about The Society before, but never imagined they would be chosen to be part of it. They are told The Society can make even your wildest dreams come true. And the money and fame are endless. They accept without hesitation and are then given The Society's tattoo, the ankh symbol. All The Society members must have one. But soon, the question that Phoebe, Lauren and Nick begin to wonder is, "All of this comes at what cost?" They are thrown into a very secret, exclusive world of money, lies, scandal and opportunities they only dreamed about before.
Every dream these teens have are being fulfilled, every want is given. But all of the excitement begins to wear off when a young man's body is found with no mark other than the ankh tattoo of The Society.

Questions are formed, risks are taken, bonds are formed, and secrets are revealed. The teens also begin to realize that once you get into The Society, you can't get out.

Tom Dolby's teen fiction debut is remarkable and addicting! You will not want to put it down!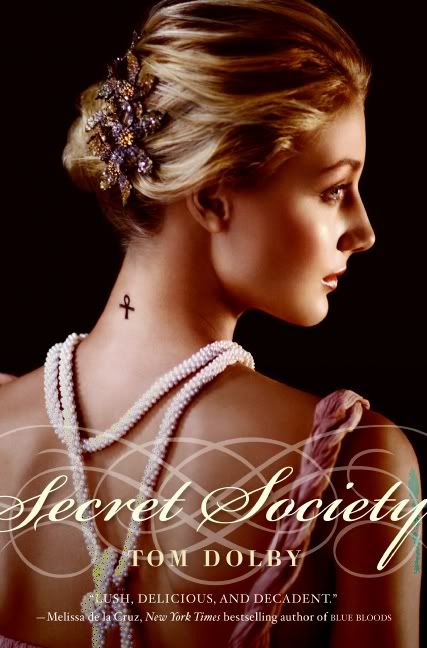 My thoughts...
I loved this book! It was interesting, intriguing, and I didn't want to put it down.
I loved the characters, Nick and Phoebe in this book. From the beginning they sort of form an "alliance" with each other. Their promise to stick together and be there for each other stays true to the end, which I really liked. They end up trusting each other with every secret they find out, and cause a lot of their peers to question The Society.
I liked Lauren too. For the simple reason that there was more to her than a rich snob. I liked getting to "know" her. Her home life isn't great, but Lauren looks past all of it. She focuses on her future, and her dream of becoming a fashion designer. She and Phoebe became instant friends, and supported each other throughout The Society's events and shocking outcomes.
Nick's family is one of the wealthiest in New York. But once you get to know him, you would never think it. He is down to earth, caring, and anything but the standard privileged child. I loved that his favorite thing to wear was ratty jeans and an old sweater. He falls for Phoebe because she is different, and not the typical Chadwick student.

Patch is an aspiring film maker. He is also Nick's best friend. One thing that irritated me about Patch was how easy he found it to ignore his friends, and look only after himself even if it might hurt someone else. Patch is a good guy, but I thought he could use a swift kick in the behind in some parts. ha! In the end, he ends up helping Phoebe, Nick, and Lauren find answers they wanted, so I liked him once more.

All in all? I LOVED this book!! It kept me interested, and wanting to know more. I can't wait for the sequel!!

I give Secret Society 4.5 out of 5 stars!