OK, so I told you that I would be back yesterday to show you some pictures of the girls opening their gifts... well, that didn't happen. LOL!! Just didn't get around to it. But, I did get around to taking ALL of my Christmas stuff down already! That is a record for me! We normally wait until the weekend after Christmas, but not this year. This house is just too small to stand it all for another week. ;)
OK, here are the pictures... I will show all Angelina first, and then Zoe. After their sets I will list what they got. Enjoy! [
these pictures do not include the gifts they got from Santa. Not sure I will include them... I was half asleep and didn't attach my external flash... and it was cloudy and rainy... pictures did not turn out great - but we will see. ;) I will list what they got - at the very least. But, not today. ;)

]
Waiting to open gifts: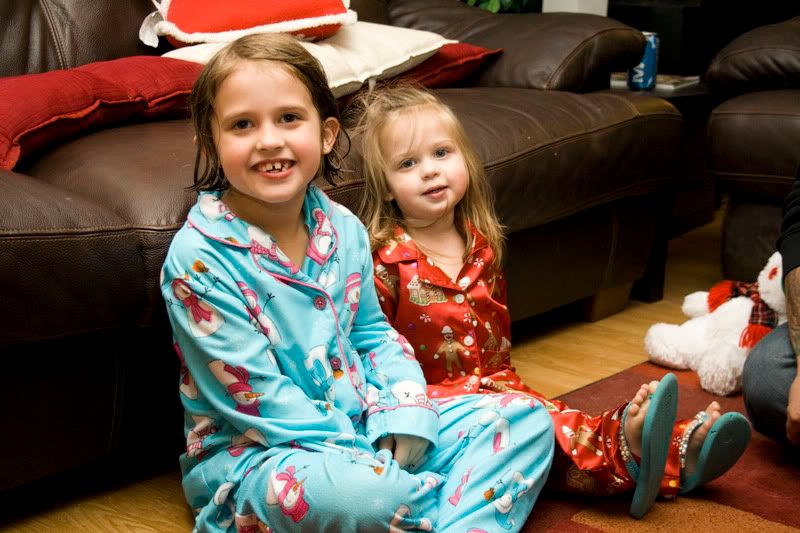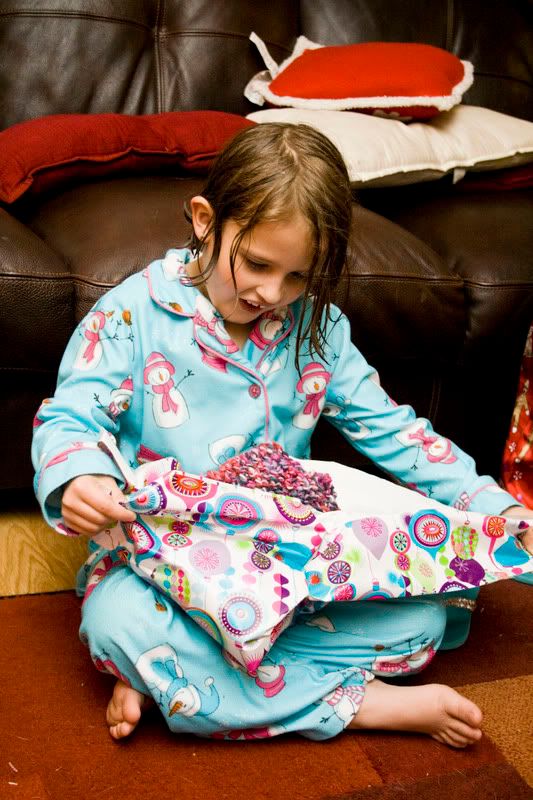 this is the scarf I knitted for Angelina. Her reaction pleasantly surprised me! She jumped on me to give me a really huge hug, and many thanks. :D This scarf was super easy, and SUPER worth making and giving to her.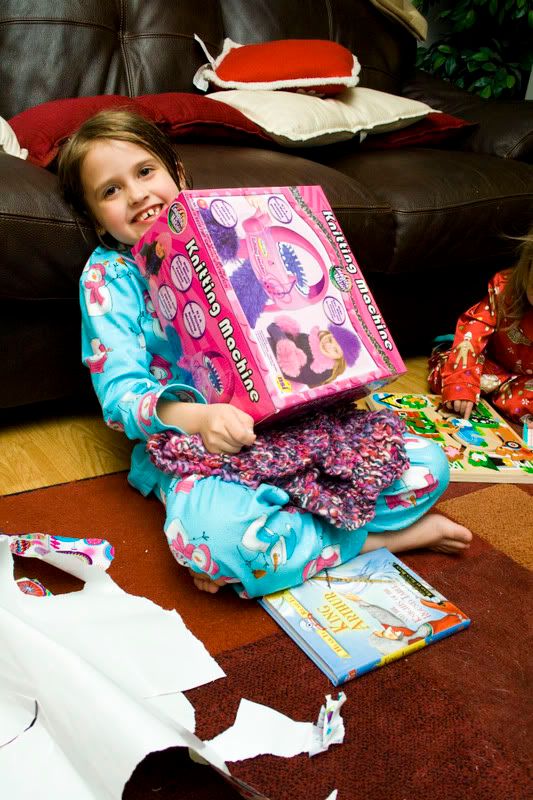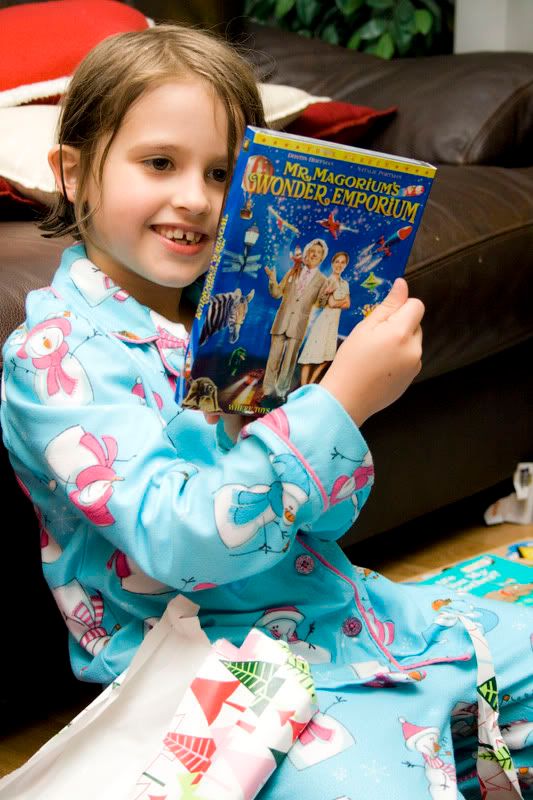 Angelina received:
Knitting Machine
A Movie
Scarf from me
2 chapter books
Barbie from Zoe
Twister Hopscotch
Farm Frenzy 2 [game]
Blink [game]
** There might be more, but I can't think of it right now. **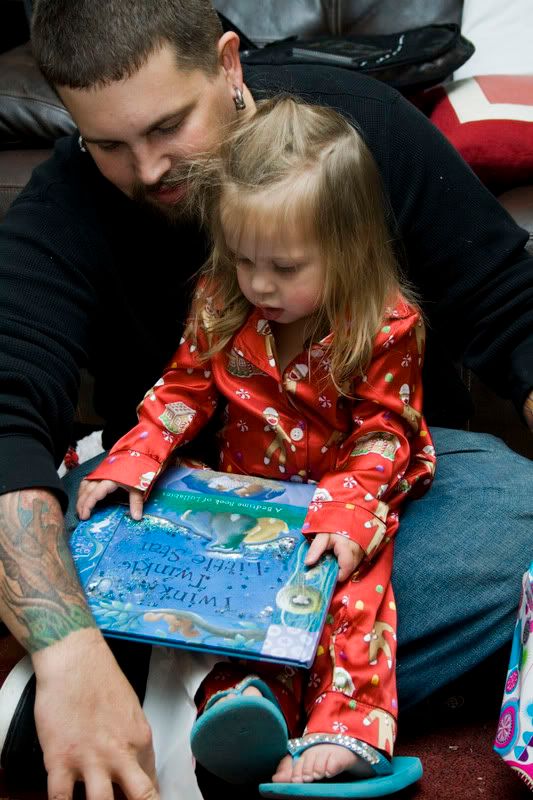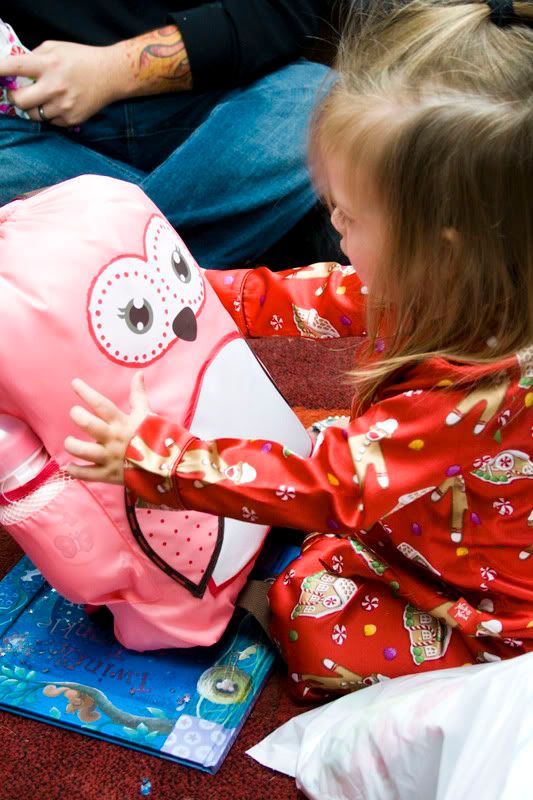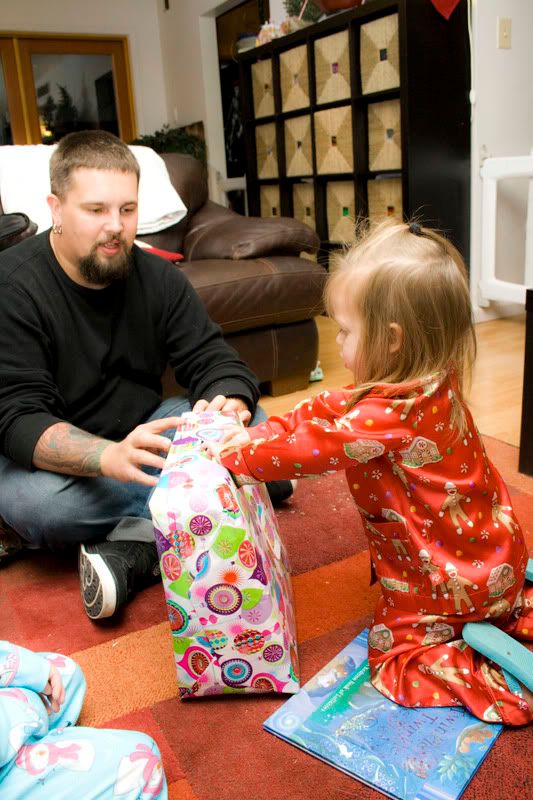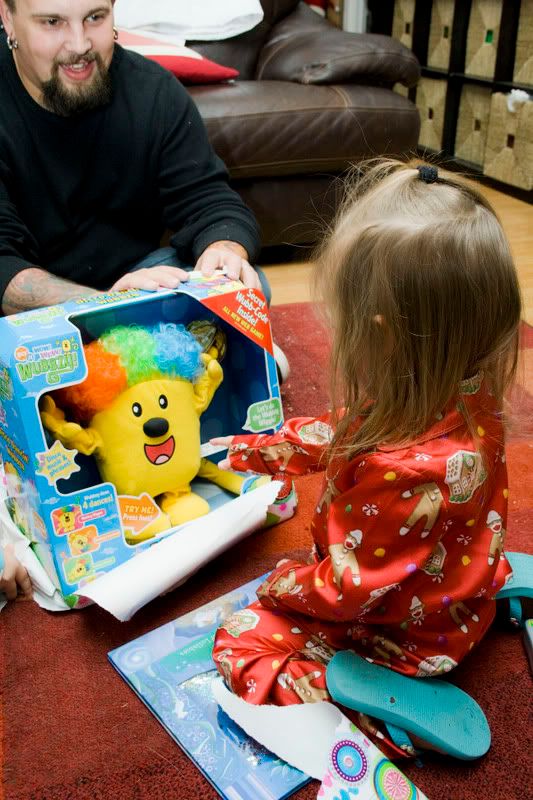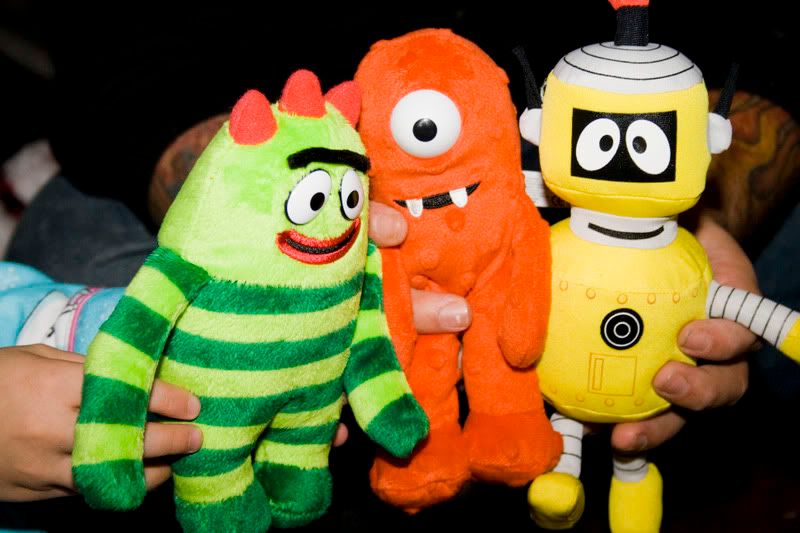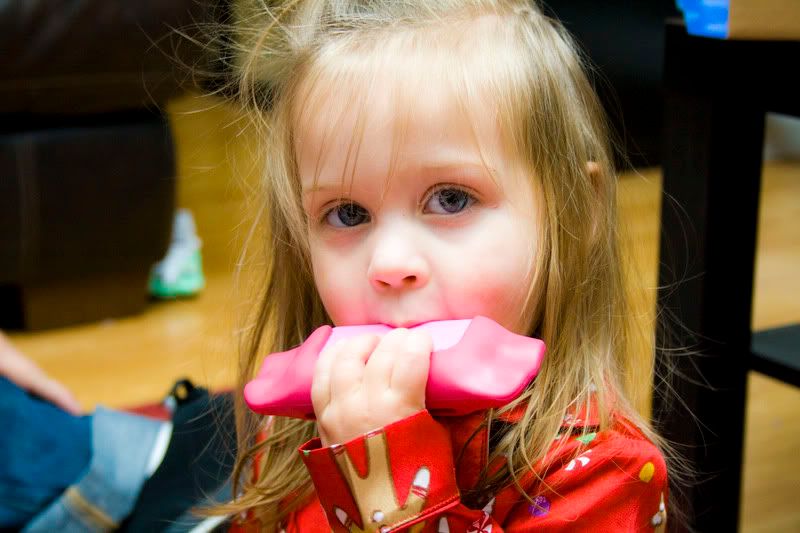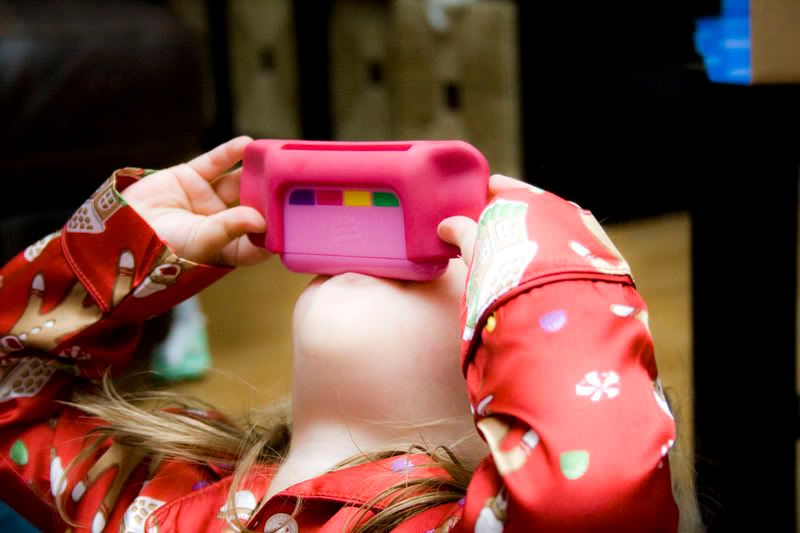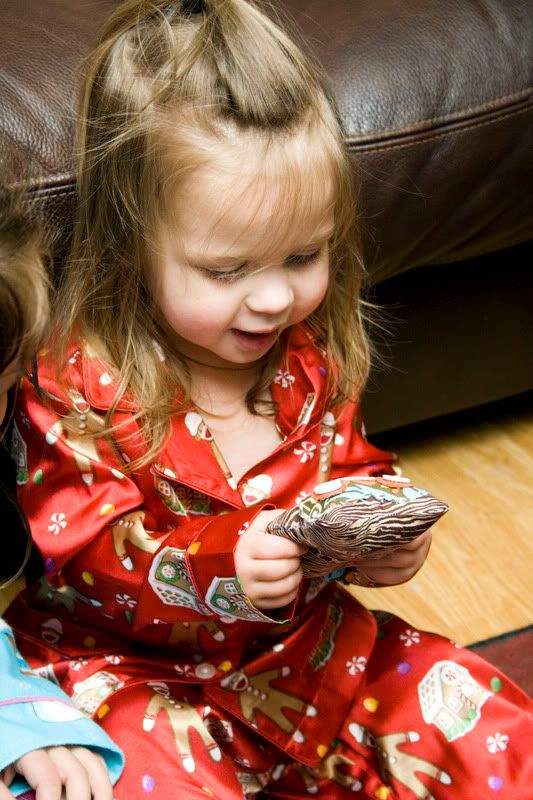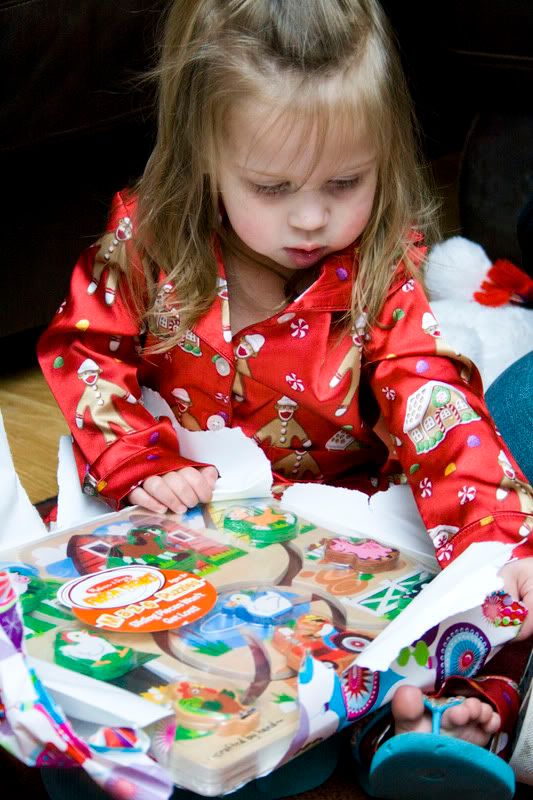 Zoe Received:
Owl Sleeping Bag
owl stuffy made by mommy
puzzle
harmonica
elmo remote [I HATE Elmo, but the remote is the PERFECT gift for her since she is always messing with out remotes.]
Wubbzy [Zoe's FAVORITE Noggin cartoon]
Twinkle Star Book from Angelina [Zoe can sing this entire song by herself. Every time we draw a star on a piece of paper, she sings it. Too cute!]
Yo Gabba Gabba stuffies. [We think this show is ridiculous, but funny. Sorta like Teletubbies...]
** I think that's it! Zoe got a lot of little things. Angelina got bigger things - she is older... little things don't seem to cut it anymore. **
I wanted a picture of the girls with their daddy Christmas Eve, and this is the picture that came out... ha ha... it cracked me up!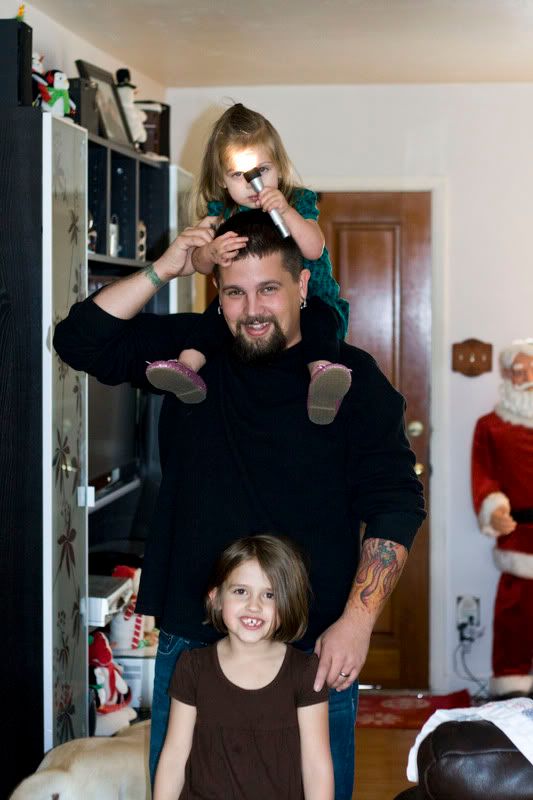 Fun times, people, fun times! ;)
On another note... I made a new camera strap slip cover the other day... this is my new favorite!!
I LOVE it!! :D Want one? Head on over to
my shop
and get one! ;)
OK, off to get ready for the day! My friend, Jen and I are going to the book store together - ALONE! Woo hoo! Some time to myself. CAN NOT WAIT!!
xoxo,
Shealynn