Scroll down for the giveaway!
Most of the time I don't blog about stuff other than rainbows, unicorns, and sparkles. But, life is not all pretty and lovely all the time. It would likely be boring if it was, however. I would love to have unicorns in my life for real. :)
This week has been a tough one for me. With Zoe. She is running me ragged. My little girl is incredibly curious, and into Everything. Almost every day this week she has either dumped water, soap and lotion all over herself and the floor, dumped the dogs water everywhere, poured fruit punch all over the table and floor. She also likes to dump her half finished cereal all over the table, floor and herself. I have cried a lot this week. I have lost my temper a lot as well. I am human. I make mistakes. I vowed for the 50th time not to yell. So, this morning when Angelina ran into my room and said, "Mommy! Zoe got nail polish....." [that is all she got out, and all she had to say really] I launched out of bed, and took off running down the hall. What I found would be the true test of patience. Because it surely would take behemoth amounts of self control to keep calm. I turned into Angelina's room to find a little girl that looked as if she belonged as a prop in a horror film...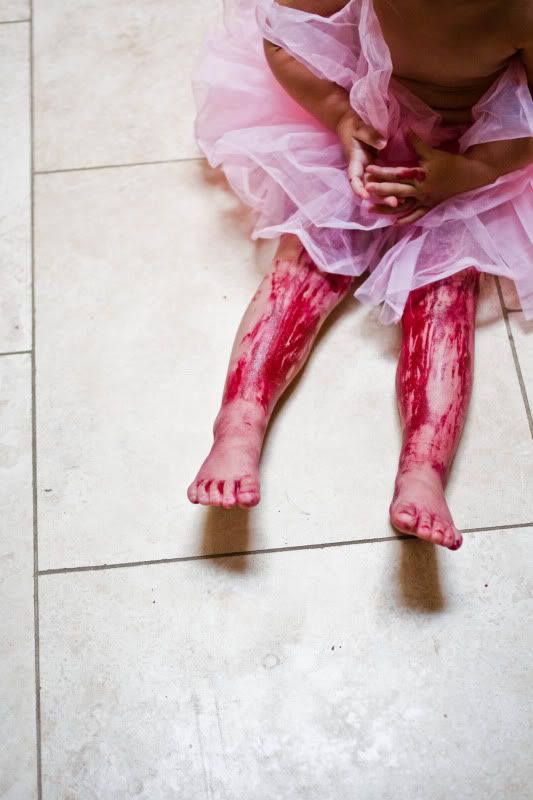 Uh huh. I deserve a pat on the back for NOT yelling! I sure do. Go me! I was calm. But I did panic. All I knew was that there was nail polish on the CARPET and Zoe painted her legs so much that it just looked gruesome. Hence the horror film reference.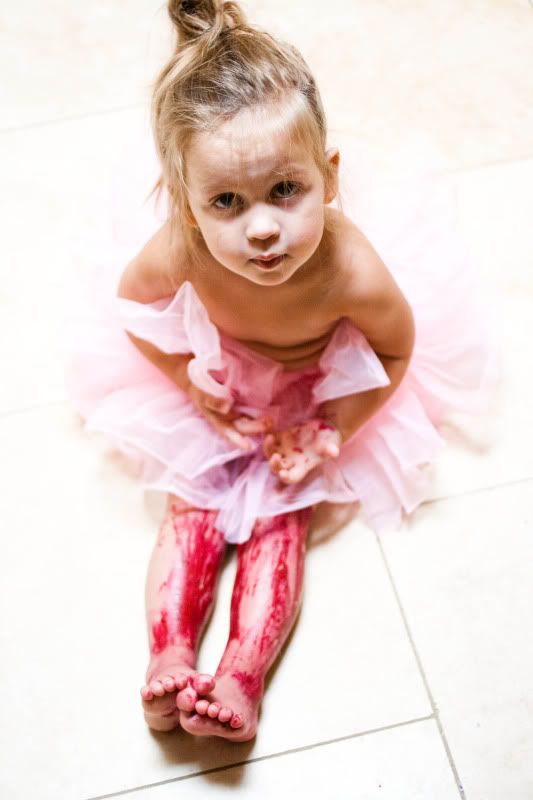 She looked all nice and innocent. But she was definitely guilty.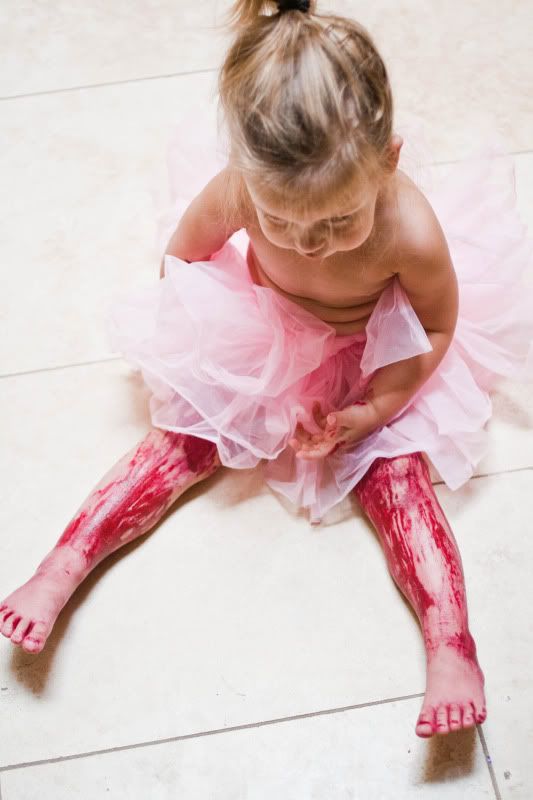 The entire time I tried to clean her legs off, all I could think about was THE CARPET! It's on the CARPET! OH MY GOD! HOW DO I GET NAIL POLISH OUT OF CARPET?! Which then brought on angry thoughts of how much I HATED carpet at that time. Carpet was not my friend. Why do people have carpet? Carpet sucks. I hate I hate I hate you. And the carpet just sat there not saying anything back. *Pout*.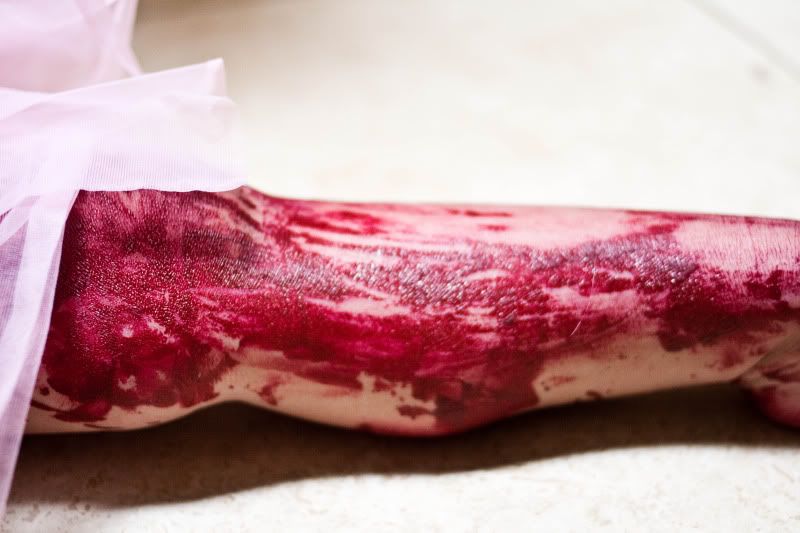 How did she get the polish you ask? Apparently I was dumb enough to put nail polish in the junk drawer. Now who puts nail polish in the junk drawer? I mean, honestly? Well, I guess I do! I haven't a clue why either. I definitely wish I didn't, though. And I will have you know that there is no longer nail polish in the junk drawer. It only took my daughter finding a bottle and covering herself and some of the carpet with it before I realized this. I know!! I am so smart. :P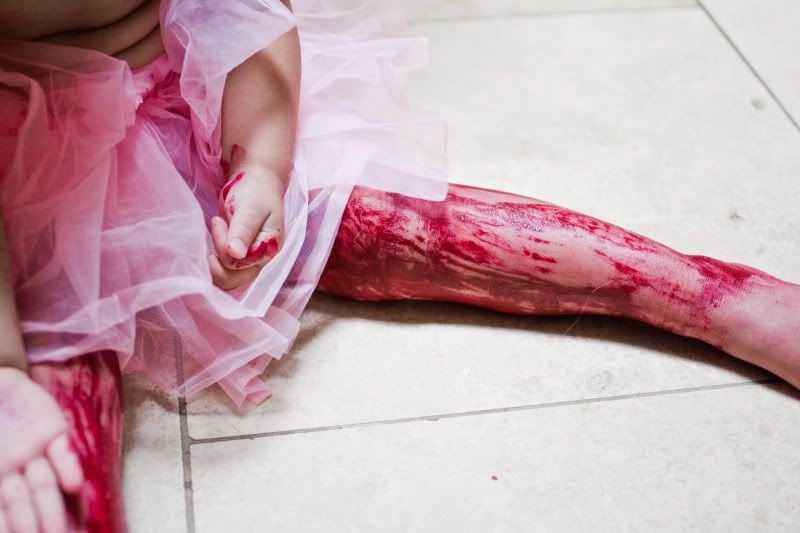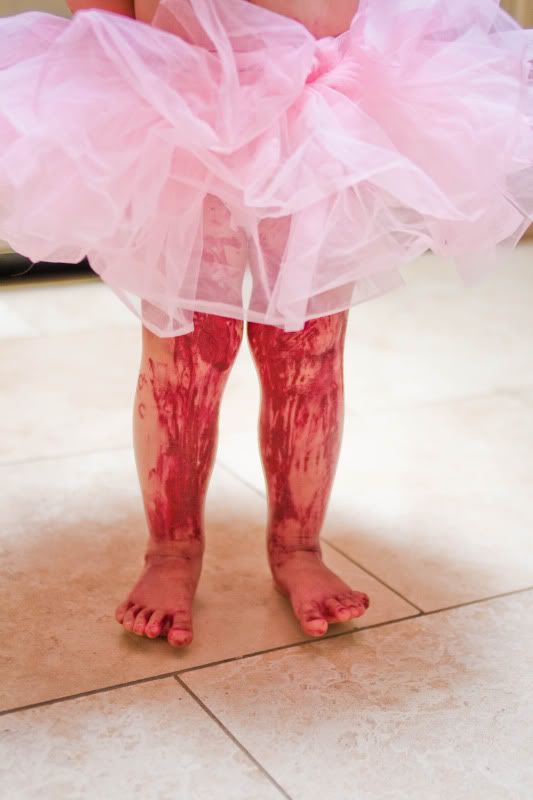 I must say that I love the internet. After dumping an entire bottle of nail polish remover onto Zoe's legs, and watching her gag instead of watching the nail polish vanish, I ran to the internet. HOW DO I CLEAN NAIL POLISH OUT OF CARPET & HOW DO I GET NAIL POLISH OFF MY KID'S SKIN?
Serious! I got some great answers!! And, I am incredibly relieved and happy to say. The nail polish is OUT OF THE CARPET! After using peroxide, windex, hair spray, TONS of water, and carpet cleaner, it ALL CAME OUT! I am NOT kidding. I was so relieved I burst into tears.
Then it was time to tackle Zoe's gruesome looking legs. It was recommended to just fill the bathtub with warm water, and have your child sit in it for 15-20 minutes. That's it! And you know what? That worked too!!! The polish just flaked off! AMAZING! I had to help it along a bit, but I was definitely OK with that. You'd be too if your child's legs looked bloody.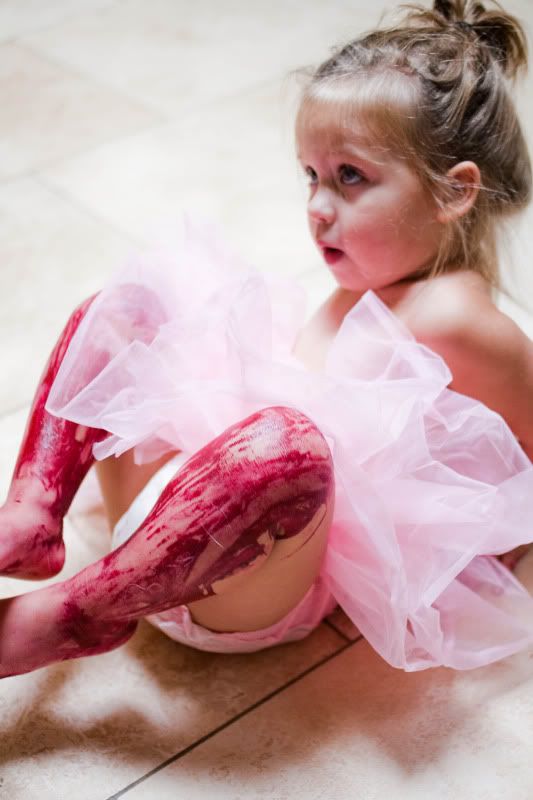 So, yes. My littlest girl has run me ragged this week. To tears, to yelling, to panic, to frustration. But. At the end of the day, she has me running and overflowing with love for her. I just can't help it! ;) I love her so much! And how could you not love this face?