COMMENTS ARE NOW CLOSED! THE WINNER WILL BE ANNOUNCED SHORTLY IN A SEPARATE POST.
It's
GIVEAWAY TIME
!!!!! Oh yeah! ;) This is a pretty darn good one too... but aren't they all? ha ha ha! First off... remember that I am
going out of town
on
March 5th through the 13th
!!! Get your camera strap slip cover orders in
no later
than the
February 24th
... also... I am going to be doing a
WEEK
of
GIVEAWAYS
while I am gone!! I need some more Etsy shop owners who are willing to do giveaways... PLEASE email me! Let's get you a slot! shealynn AT gmail.com.
OK, moving on... here is that giveaway you have all come here for. :D
The owner of a NEW Etsy shop called
Abi Leigh
is offering a beautiful crocheted hat to GIVE AWAY! How awesome is that?! Here is a little about Abby and her hat. :)
"This giveaway is for a beautiful hat in a dark violet with a cream flower. This item is handmade with care and love and ready to enter a special little girl's life. Take a look at the beautiful ruffled edge and two toned flower. This particular hat will fit an infant all the way up to 4T. It measures 6 3/4 inches from top to bottom. Width is 8 3/4 inches. Although it is quite stretchy and can fit almost any little girl. Circumference is 5 3/4 inches. This hat is one of a kind, but I am also able to take custom orders or you can check out some of my already made items that are ready to ship!!"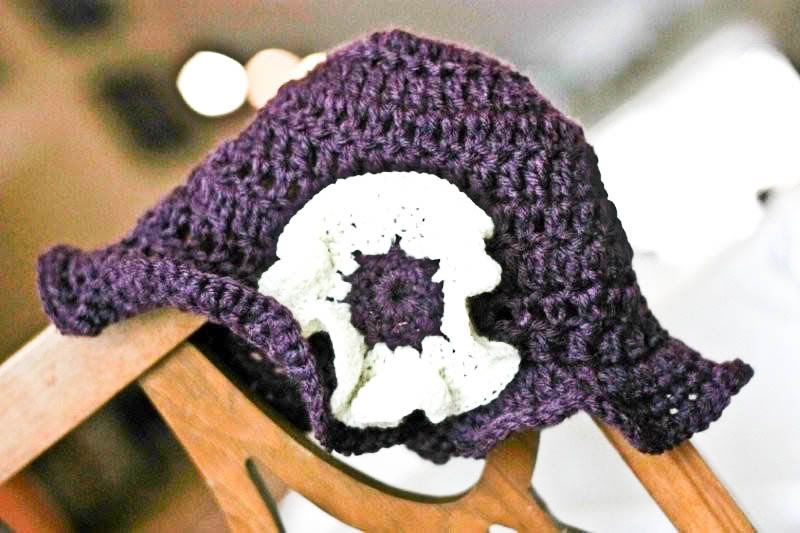 The above hat is what is being given away... no other choices. But feel free to tell me what colors you would love to see in the comments. :)



Abby sent me a couple of her hats... I was only able to get some shots of Zoe in it... but it's adorable!!! All of your little girls NEED one of these hats!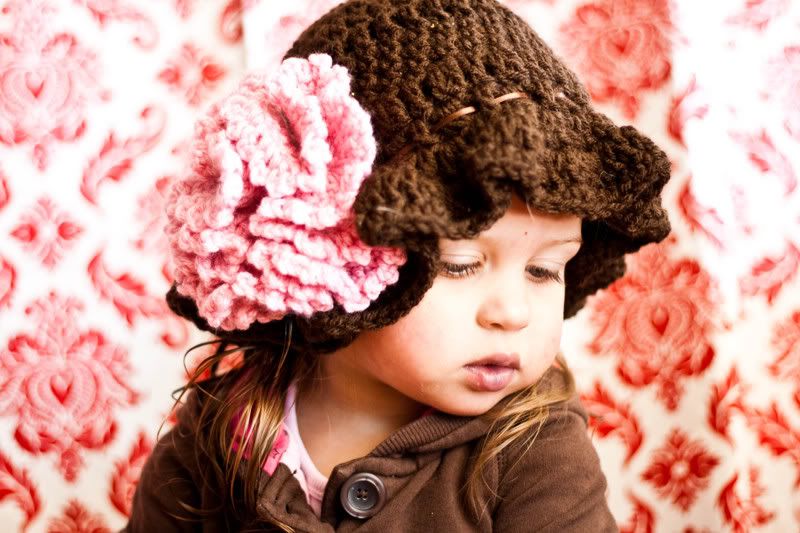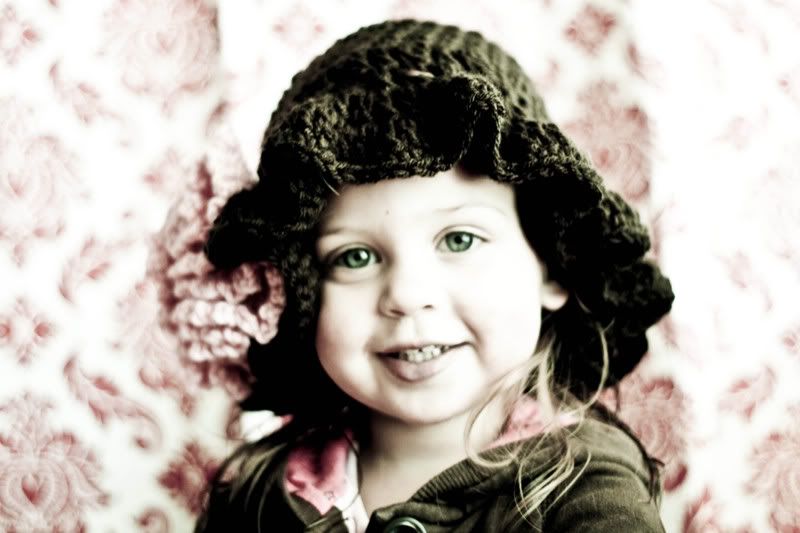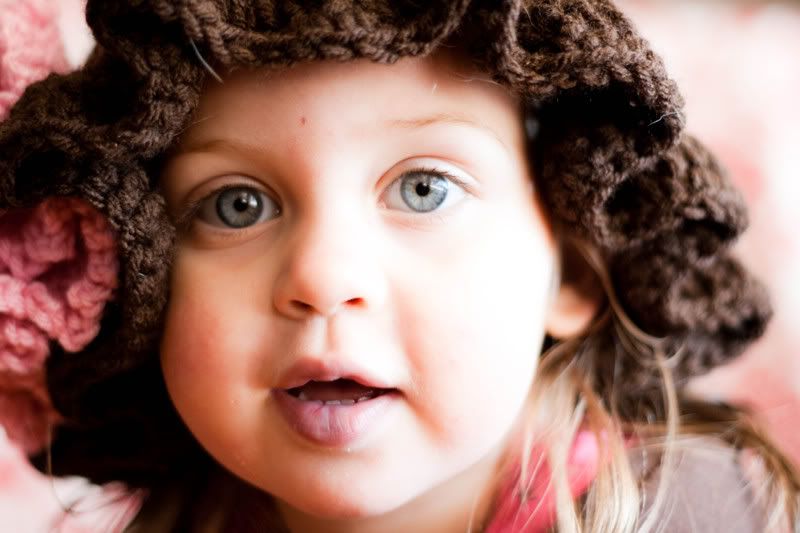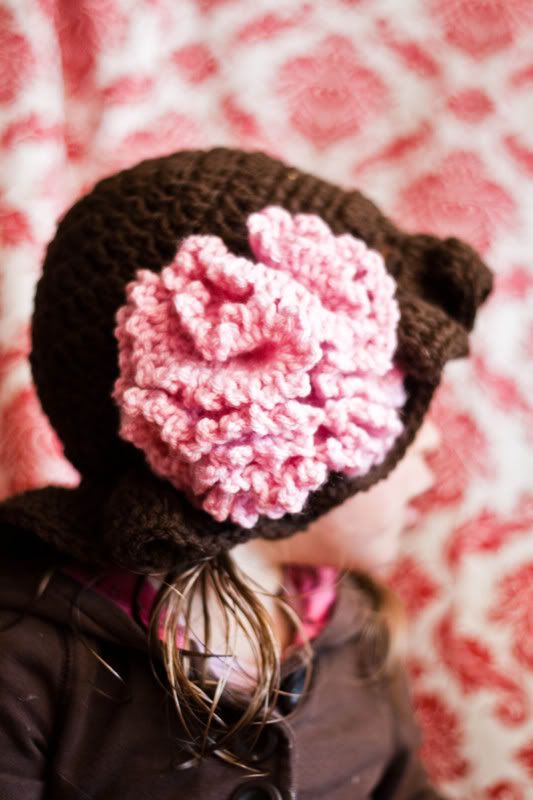 Abby also makes crocheted flowers!! Check these out...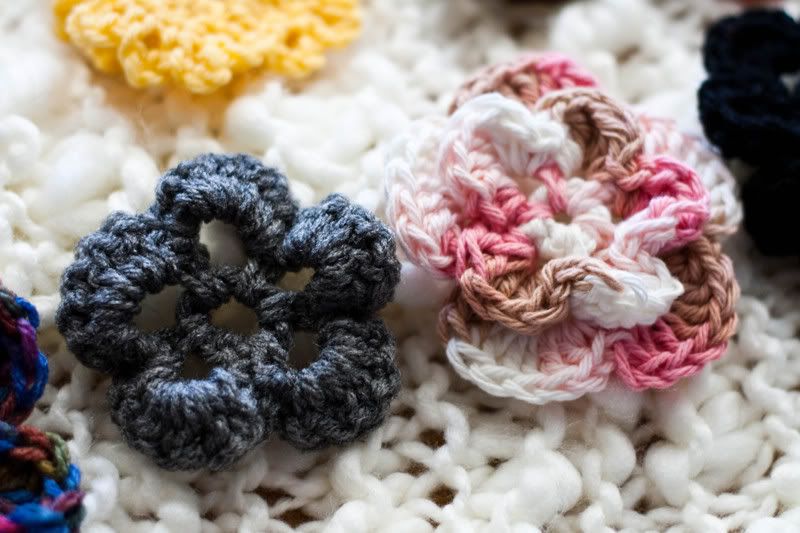 So... remember these flowers, because I will be bringing them back to your attention tomorrow! I need a little help. ;)



So, here is how to win...
1 blog point for leaving a
COMMENT
telling me what you'd like to win from her shop.
2 blog points added for
FOLLOWING ME
! You all know how much I love blog friends! ;)
3 blog points added if you
BLOG
, or
TWITTER
about this giveaway! If you do blog or twitter about this giveaway, please enter your name and blog/twitter address in Mr. Linky below instead of commenting in the comments. :)
5 blog points for
EACH
item Purchased
BEFORE
the giveaway is over! Be sure and let me know if you did!!
Giveaway
ENDS
sometime on
Sunday
!! ;)
** Be sure and check back to see if you won! **

Tell All Of Your Friends!!!!
If you're new here,
WELCOME
!! Grab a cup of coffee, cocoa, tea, or soda, and feel free to look around!! :)
XOXO,
Shealynn