Angelina started soccer a couple of weeks ago. I love that she wanted to play. :) I played soccer for many years growing up, and it is still one of my favorite sports to play! I would love to get a woman's team together in Arizona and play. For fun. Oh, and for exercise, of course. ;)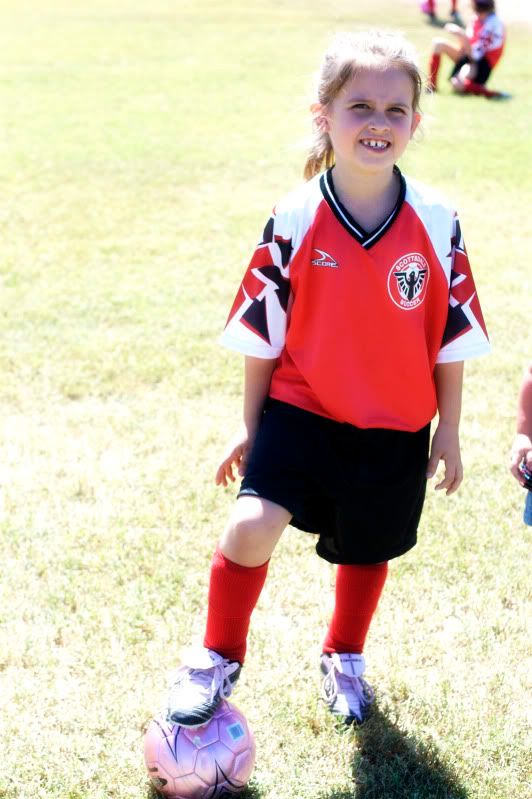 Angelina is learning the importance of team work. I think that team work is such an important lesson to learn! She is getting it! Even though she makes faces at me when I am pointing my camera at her. ;)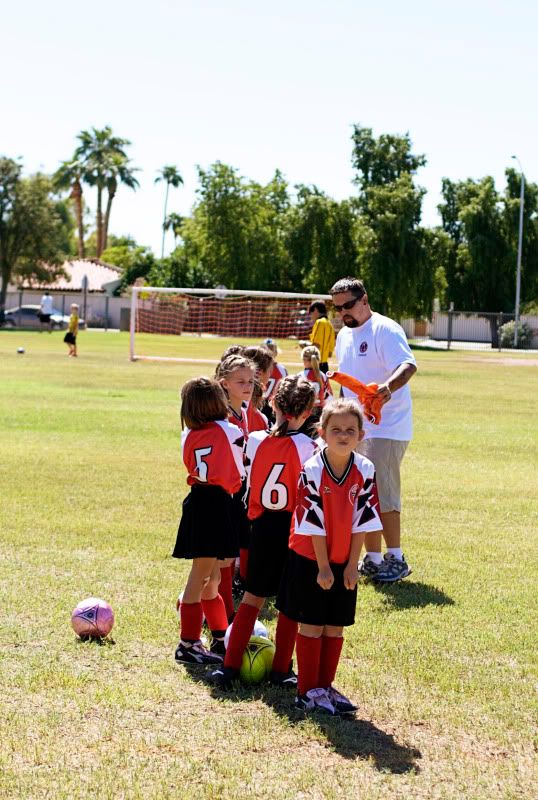 She is #4 on the team. That is what number I always played. Always! 4 is my favorite number. I was super excited when she randomly got that number.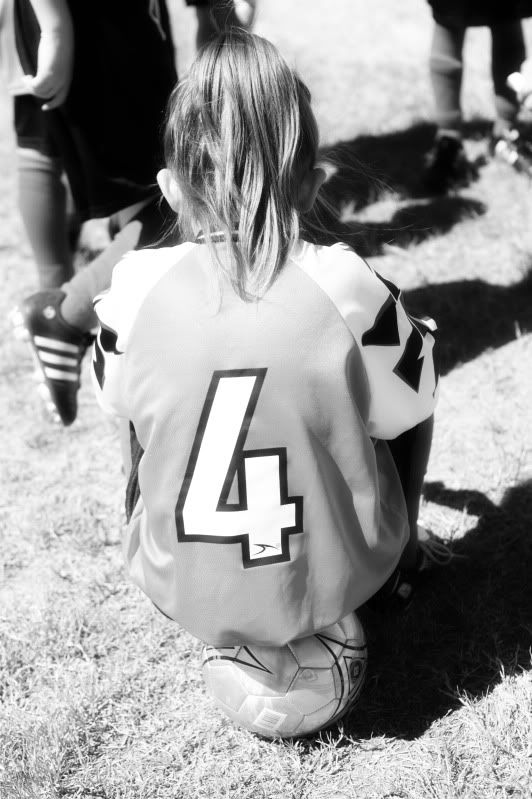 Oh, and my husband is their coach... You can sort of see him in this picture...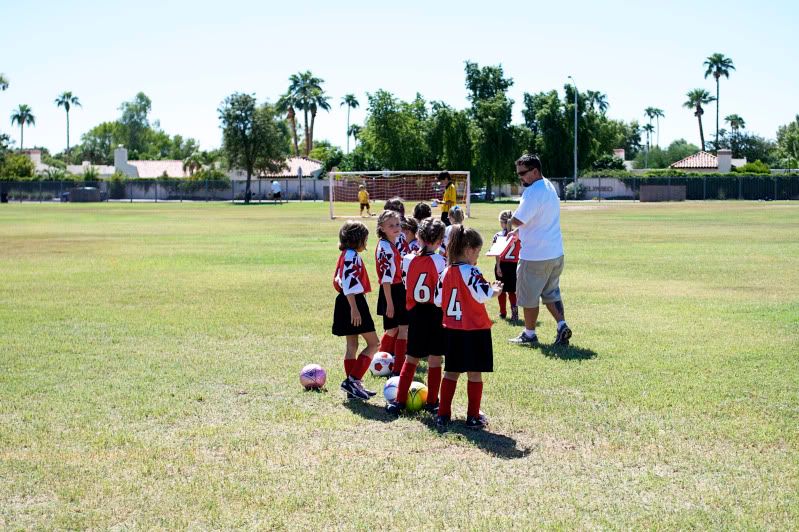 He is loving it. And my husband is INCREDIBLE with kids. I love watching him coach. He is such a wonderful, understand, and caring man. These girls are lucky! ;) Angelina has recently told her coach that she wants to be goalie. She wants to stop that ball...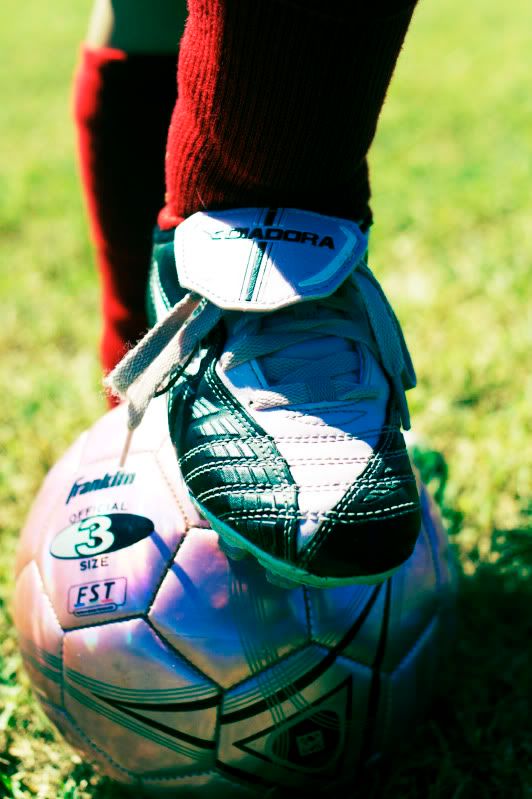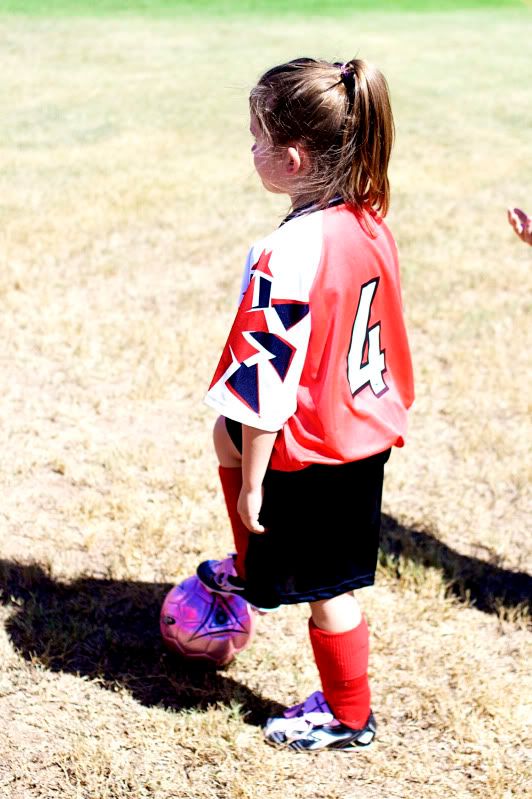 She will play goalie for a bit tomorrow. My zoom lens will be out and ready! I LOVED playing goalie. My favorite position. It can be a scary one... But it's one of the most important positions played.
Zoe loves to play "soccer ball" too. She is too young to be on a team. Which is too bad, because I think a team of 3 year olds would be hilarious! I would love to see them running around like little balls of chaos trying to find the ball.
Zoe calls this game "soccer ball". So, everytime we are heading to the practices or the game she gets super excited and yells, "SOCCER BALL"! Can I play "Soccer Ball"?! Cute!!!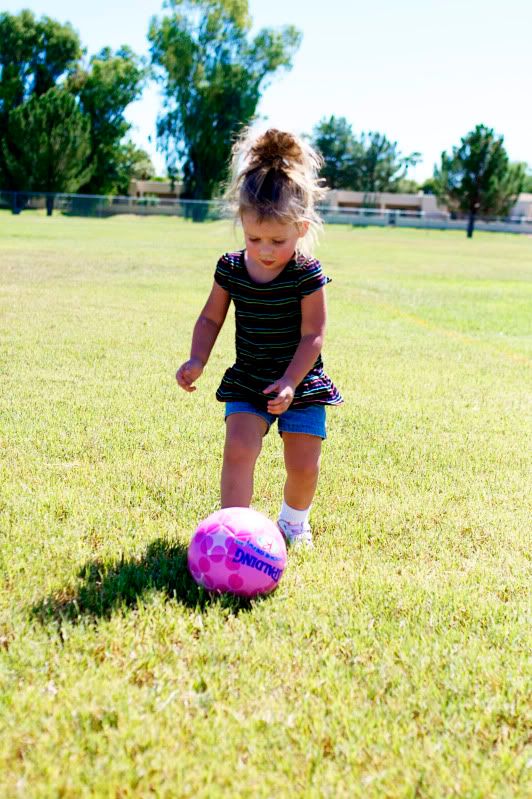 Even though their team lost last week, my husband was there to encourage them and tell them what a fantastic job they did. He is so rad! Love you Coach!
P.S. I am doing the book club follow friday posts on Twitter today! If you haven't told me your Twitter username yet, please make sure and let me know, so everyone can follow each other for next week's discussion. Has everyone started reading Shiver? I know some of you are already finished with it! Wow! ;)
P.P.S. Those of you that live in
Arizona
... I wanted to let you all know that I am holding photo sessions for Christmas pictures, etc. now! :) It's nice and cool outside! Perfect for picture taking... you won't sweat to death! ha ha! If you're interested in booking a session with me, email me: shealynn AT gmail.com - my calender is OPEN! ;) Let's get those Christmas pictures taken!