Giveaway is now closed.
I am so thrilled to introduce one of our newest sponsors to you!! Meet Melanie of Above All Fabric.
She and I have become friends over the last month through Twitter and we have talked over the phone a couple of times. She lives only a couple hours away in Tucson, and we plan to meet soon! Craft day is coming!!!
Melanie runs an online FABRIC STORE! Yes, I said the magic word, didn't I? Fabric! Say it again... Fabric. Oooooo. :) I have ordered fabric from her many times. Her shipping is very fast, and her customer service? Tip top! The perk of living in the same state as Melanie is that when she ships my fabric one day, I literally get it the next day. Niiiice! Love that!
Anyway. Melanie has been incredibly generous to offer a giveaway for you all this week. But. Not only is she offering a giveaway, but she is also offering a DISCOUNT CODE!! Go ahead! It is definitely ok to be giddy and squeal! Go ahead. Do it! ;)
Moving on.
You are all going to LUV what she is giving away to ONE lucky winner today!!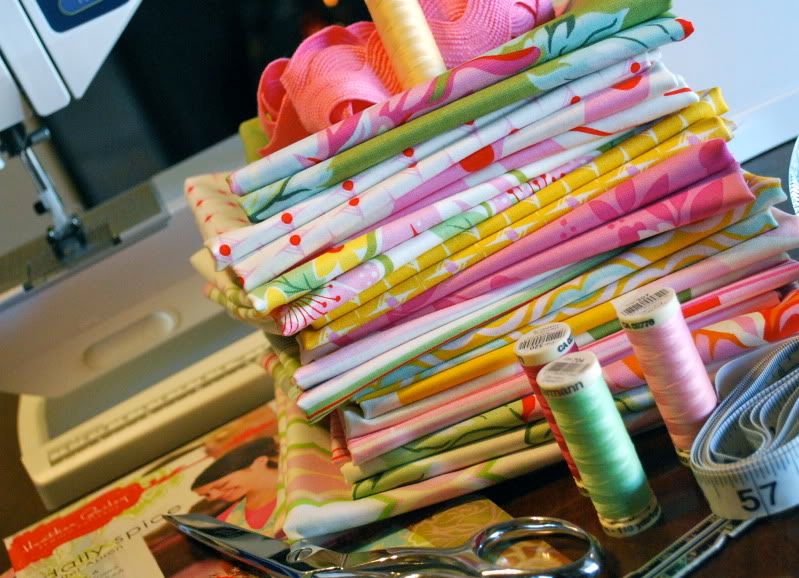 You guessed it! She is giving away a Fat Quarter SET of
Heather Bailey
's brand new Nicey Jane fabric!! Woooo!!!
Before I tell you how to enter, let me tell you how to get your discount! Enter
SheyB
at time of checkout to receive
15% off your entire purchase
. This discount is good for
ONE WEEK
!!! Feel free to go nuts! She won't mind, and neither will you! Your house will be so pretty with tons of fabric everywhere!!
OK! Here is how to enter...
Leave a comment for each one!!
Remember! You
do not
have to answer every question,

but the more you answer

, the more chances you have at winning. :)
And

PLEASE

remember to check back here to see if you have won! If you win, you must send me an email claiming your prize.
You have SEVEN chances to win!!
1
. Just leave a comment.
2
. Go visit the
Above All Fabric
website. Come back here & tell me you favorite fabric line(s)
4
. Blog, Tweet and/or Facebook about the giveaway.
If you Tweet about this giveaway, you can just cut and past the following:
Enter to win a @_heatherbailey Fat Quarter Bundle on The Benner Daily http://bit.ly/77XKUI !! @shealynn @aboveallfabric
7
. Become a *Shey*[B] Facebook Fan by clicking
here
.
Good luck!!
This giveaway ENDS next Monday ... time? ... you'll see. ;)
Thank you
Melanie
for offering to do a giveaway and Sponsoring The Benner Daily!! You rock!
If you're interested in advertising with The Benner Daily, we would Love to have you!
Please email for more information!
shealynn AT gmail.com