I have been so busy here lately! Managing time is a tough one for me. But, I am learning. Albeit slowly. I will get the hang of it all... juggling kids, my business, husband, housework, dog, etc. Housework!!! Ahhhhh! That is what goes to the way side when my schedule begins filling faster than I can blink. Do not mistake this for a complaint, because I am in no way complaining. I love my life, which includes all things busy and crazy. Even if it means my house looks like the dirty tornado came through and left a wake of mass dirtiness in it's path. My husband, God Bless him. He must be going completely insane most of the time. But, he never complains. Even when the floor is covered in dog hair, dead grass, hot dog remnants, crumbs, and whatever else...
Someone emailed me last week and asked me "How do you do it all?" My response? "HA HA HA!" Don't be fooled people! My house is in complete dissaray most of the time. And, like I was saying, my husband... he is a saint. Never says a word. Just walks through the house [with shoes on] and acts like there is nothing wrong. All is clean in the house... well. Maybe I am pushing it. LOL! I love him. For many many reasons, but the biggest reason right this second is that he supports me. 100%. "Honey I want to sew and sell camera strap slip covers." "OK, babe. Sounds good!" OR "I want to get a spinning wheel and spin my own yarn." - "OK, well, not sure how you're going to have time to do it, but sounds good." He is my biggest supporter and cheers me on... No matter how outlandish my ideas are! OK, now, get that man in a cheerleader suit out of your head! That is definitely not where this is going. ;) LOL! I, of course, support him 100% in his endeavors too! Pretty much anything he wants to do, I respond the same way he responds to me. And, I wouldn't have it any other way.
The other biggest reason I love him right this second is [not only is he the love of my life, the father of my beautiful girls and a great husband] but he doesn't complain to me when I don't dress fancy. Instead, half the time, he comes home and I am usually covered in food crumbs and pieces of thread. LOL! This must be quite a sight! And, he doesn't complain when our home is in schambles. Let's be honest, here. I don't let it get to that point of him complaining, because I am sure if I never cleaned, he would complain. The kids would complain, and the dog too! But, right now... it's to the complaining stage... he isn't complaing, but I am! I will rectify it before he gets home. ;)
I am sooo rambling!
Need proof? I can't believe I am doing this.... ha!
I am happy to announce that 90% of those dishes in the sink are DONE! :D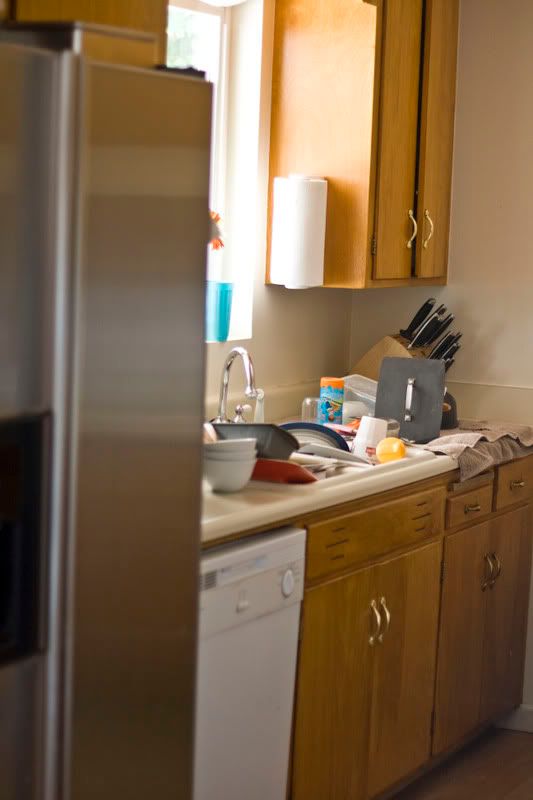 OK, that's it. Messy enough for me to want to scream.
On a completely different note, my husband took the girls grocery shopping yesterday so that I could go to the book store ALONE. It was fantastic! I got an iced Passion Tea and browsed the books. I didn't get any novels - since I have 3 to read already... but, I did pick up this book:
It's really good, and gives lots of great pointers!!
My mailman delivered some goodies to me in the mail today too!
Little bits of sneaks in there. ;)
OK! I MUST be off! I have LOTS and LOTS of sewing to do.... that's not to mention what I have to do that I talked about above!
Bye the way, how was your weekend?
XOXO,
Shealynn
P.S. Did you all enter in the giveaways going on right now? Look at my sidebar on the right.... there are 2 links there...